Archive for October, 2012
Posted on Oct 24, 2012
Tripel
9.5% 40 IBU
Now on Tap at the pFriem Family Brewers Tasting Room!
Posted on Oct 10, 2012
 Late September we had the pleasure of having the Rodriguez Family join us for dinner.  Ashley Rodriguez has a way with words and photography, she writes a beautiful blog – Not Without Salt. It's a great foodie and drink blog based in Washington State.  Ashley, her husband and three young children were in the midst of a week long road trip of Oregon when they arrived at pFriem for a tour and taste of Hood River's newest brewery.  Ashley states in her blog entry: "The trip had us tasting wine, touring breweries and roaming through orchards."  Not a bad week! The pictures of pFriem are posted from Ashley's blog entry on their travels around Oregon, along with the excerpt on pFriem.  We throughly enjoyed our time meeting, drinking and eating with this lovely family.

"Hood River was our next stop and the one that had us asking ourselves, "Could we live here?" What's not to love about a town directly on a river, a crystal clear view of Mt. Hood and countless breweries?
Our favorite stop in Hood River was at the Pfriem Family Brewers. They opened their doors for us warmly and we stayed for hours. We watched Josh (owner and head brewer) craft a fresh batch before we sat with he and his family over a bountiful meal that included plates piled high with various pickles, mussels, frites, and towering onion rings with aioli.
The food and the beers both have Belgium on the mind as Josh is heavily influenced by the country but with his vast experience in brewing, Josh manages to put his own stamp on each of his beers. The beers are rich in flavor with some hinting at cardamom and  deep floral hop flavors that stays true to the Northwest.
Our time at Pfriem showed me the importance of this trip and the great joy and responsibility of telling the stories of those we met along the way. Gabe and I were both blown away by their passion and were inspired by seeing this family taking a leap and making their dreams a reality. They've invested thousands of hours into the beer, the food, the space while raising two young children – a task I know is difficult in and of itself. It takes an incredible amount of passion for the craft to do such a thing and I find nothing more inspiring than watching others take so much pride in their work. They have much to be proud of as their beers are among the best I've tasted.
All of the people we met on this trip are striving to put their product out into the world – to share a taste, their joy, their lives. With many of our stops I was surprised to find the operations much smaller than I had envisioned. These are few people doing great work with local ingredients crafted expertly. I felt so honored to have met everyone I did and as I said before, it is a joy to be able to tell you all about them.
The Pfriem family touts this message; "Proudly Crafted, Humbly Offered". Since reading that on the back of my glass while enjoying the Belgian Strong Blonde, I haven't been able to get it out of my mind. This is how I want to live – striving to create something with great passion and pride and to be able to humbly share it without seeking the glory for myself but allowing the work to reflect something greater.
I can think of no better way of describing Josh and his family. He spoke with great experience, passion and care about the beer, the food and their newly opened space but he didn't try to sell us on the beer, he simply served it to us. The beer sold itself."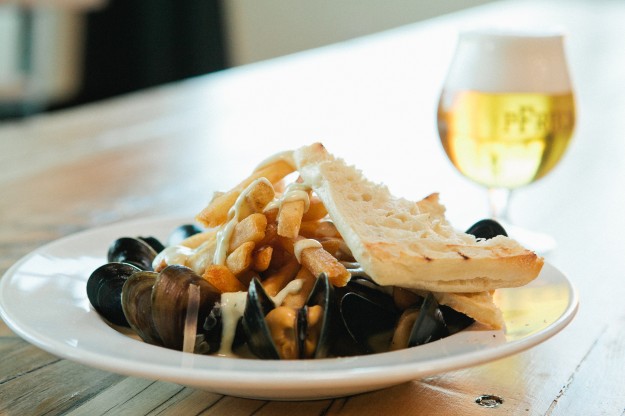 To see more photos of pFriem Family Brewers, along with the full story & pictures of Not Without Salt's week tour of Oregon click here: travel oregon
Posted on Oct 03, 2012
Yep, it's that time of year again when our town gets a bit quieter, the air a little crisper, and the leaves begin their descent towards Fall.  The days are getting shorter and the dark nights are encroaching upon us.  For some of us living in the Northwest, we can dread this change of season.  Who doesn't love dining to a glorious 9pm sunset, or gardening til 10pm?  In the summer time,  Gorge residents along with our visitors can really benefit from the extra long hours of day light that summer brings; an after work epic kiting session, a strenuous mountain bike ride up Post, a beautiful road ride to Mosier, or just a simple evening of playing at the park with your children.
However, as the dark nights arrive we are welcomed by the coziness that Fall brings to the Gorge.  The apples and pears replace the tomatoes and peppers at the Farmer's Market, warm fleeces are pulled on in the late afternoon, and the kids return to school.  Now welcome pFriem Belgian Stout.  If you haven't had a chance to try it, we have to say….it's the perfect way to say hello to a chilly Fall night!
pFriem Belgian Stout
Dark as midnight with a thick tan of aromatics of coffee and cardamom, our Belgian Stout demands an audience with your tongue.    Its complexity of bold flavors of cocoa and cinnamon are only upstaged by its sheer ease of drinkability—a rarity with more common stouts